 Join us the first Monday of each month for our public programs!

Join us for our monthly field trips. All are welcome!

Report your feeder Survey Observations Online!




©2015 Eastern Long Island Audubon Society, Inc.

"From the Barrens to the Bays"

Eastern Long Island Audubon Society, Inc.

A New York Chapter of National Audubon Society

Serving the communities of South Hampton, East Hampton, Western Riverhead, Brookhaven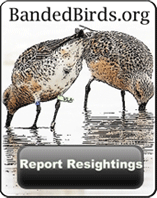 THE NEW ELIAS 2015 CALENDAR IS IN!

ORDER YOURS TODAY!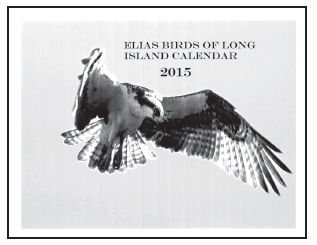 Save the Date!

The Great Backyard Bird Count

Be a Citizen Scientist and have the kids join you!

February 13-16, 2015

This count has something for everyone. Take your favorite kid, take 15 minutes, go to a park near you. See what birds you can find and report them to ebird. If it's too cold, count the birds in your backyard. They don't have to be hard to ID, or exotic. Just look around. If you stay home – warm up with a cup of tea or hot chocolate while you count. It is citizen science at its easiest.

Here are official instructions:

1. Register your count at ebird (you can use your existing login name and password). If you have never participated in the Great Backyard Bird Count or any other Cornell Lab citizen-science project, you'll need to create a new account. If you already created an account for last year's GBBC, or if you're already registered with eBird or another Cornell Lab citizen-science project, you can use your existing login information.

2. Count birds for at least 15 minutes on one or more days of the GBBC. You can count for longer than that if you wish! Count birds in as many places and on as many days as you like—one day, two days, or all four days. Submit a separate checklist for each new day, for each new location, or for the same location if you counted at a different time of day. Estimate the number of individuals of each species you saw during your count period.

3. Enter your results on the GBBC website by clicking "Submit Observations" on the home page. Or download the free GBBC BirdLog app to enter data on a mobile device. If you already participate in the eBird citizenscience project, please use eBird to submit your sightings during the GBBC. Your checklists will count toward the GBBC.

Last Chance-Teen Scholarships Are Still

Available for Summer Camp

ELIAS is offering scholarships for three students in grades 7 through 12

to attend New York State Department of Conservation camps for one week.

Campers will choose between camps in the Adirondacks, Catskills, or western

New York State. Campers enjoy fishing, hiking, canoeing, volleyball, and

hunter safety training. Activities such as sampling streams for aquatic

life and hiking in the dark to listen to the sounds in the woods are designed

to bring conservation concepts to life.

More information about the camps is availabe at
www.dec.ny.gov
. Search for teen camps. The candidate should be interested in the environment, and anxious to learn more. (Parents need not be ELIAS members, but the camper must live in Eastern Long Island.)